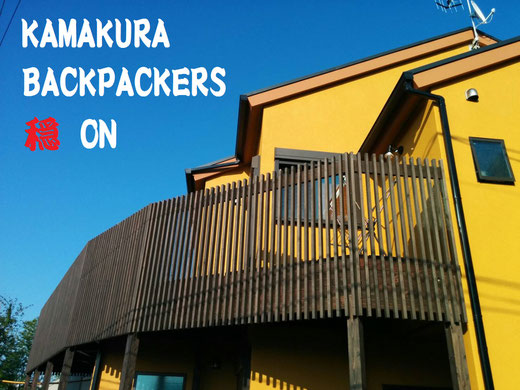 ~Welcome to Kamakura~
☆☆☆
Opened Only on Weekends!!
        (Friday night~Monday morning)
   We are now accepting reservations.
 ☆☆☆
【About business days】
 ★ Only available on weekends (Friday to Monday morning).
 ★ For reservations, carefully read the contents of our website,
  Please fill out the reservation form on this website and make a reservation.
 ★ Business days may change from month to month.
  Please confirm the business days in "Business Days & Availability".
【News】September 2019
  Hello!
  I'm Sagawa, the owner of Kamakura Backpackers.
    From October 2019, reservations on Booking.com are available.
    For reservations from Booking.com, click here → Booking.com
【Note】
 The rooms listed on Booking.com are only private rooms for a while.
 If you wish to be in a dormitory, please contact us from the "Contact Us"  
 page of this website.
【Others】
 ★ Reservations can be made for the dates listed in "Business Days &
  Availability" on the top page.
 ★ Basically, it takes the form of staying only on weekends.
 ★ Also, business days may vary depending on the month,
  Please confirm the business day in "Business Days & Availability".
Thank you in advance.
Messege from owner.
  [Kamakura Backpackers ON] is new opened since Sept.2-2016.
Business days are only on weekends (Friday night to Monday morning).
Please make reservations after confirming vacancies. Booking can be made up to one month in advance. We would love to you visit!
~The backpackers of a Japanese old style house in Ofuna Kamakura~
『Kamakura Backpackers  ON』
~What About Backpackers?~
  "The Kamakura Backpackers ON" is a traditional Japanese old style house 
that conveys the image of rural tranquility contained in this homely atmosphere and nestled in daily life will make you feel that you are home!!
  We, the owners are now looking forward to meeting travelers on their adventures in Kamakura.
~The Backpackers Location?~
  This backpackers is located  in the OFUNA area of Kamakura. 
  OFUNA is a vibrant downtown close to the lives of people in Kamakura.
If you go there, you can get fresh and delicious ingredients.  There are lots of small specialty shops, new & old shops and restaurants in OFUNA.  We do not have trouble eating. So, we call OFUNA like a "kitchen of Kamakura".
  For more  explicit information, please check the Access webpage.
①From  JR-Line  Ofuna station … About walk 15 minutes
                                            It is easy access from  NARITA AIRPORT
                                            and HANEDA AIRPORT.
②From SHONAN-MONORAIL Fujimicho station… About walk 5 minutes.
                                            A  15  minute monorail to Enoshima.
                                            It  is convenient for sightseeing in Enoshima.
③From some of the nearest bus stop… About walk 3~5 minute.
                                            There are some buses of Kamakura tourist area,
                                            Ofuna, Enoshima bound.
~The way to our backpackers.~
If you enter the correct address can not search for my inn.
When Google Maps to search for "Kamakura Yamazaki 562", you will see the exact location. I'm sorry for troubling you, but thank you.
▼  
Tourist information around the Kamakura Backpackers ON
 Welcome to Kamakura the capital of the Samurai!!
Kamakura is rich in history,culture,natural beauty and wanderful food for everyone...
●Kamakura Backpackers ON → To Kamakura
                                                 To   Tsuruoka-hadhiman Shrine
                                                 To   Big-Buddha (Kotoku temple)
                                                 To   North-Kamakura
                                                 To   Enoshima
                                                 To   Ofuna(Downtown of Kamakura)
                                                 To   Ofuna Kannon Temple          …etc.
If you want to know more informtion, please ask the staff of the backpackers.